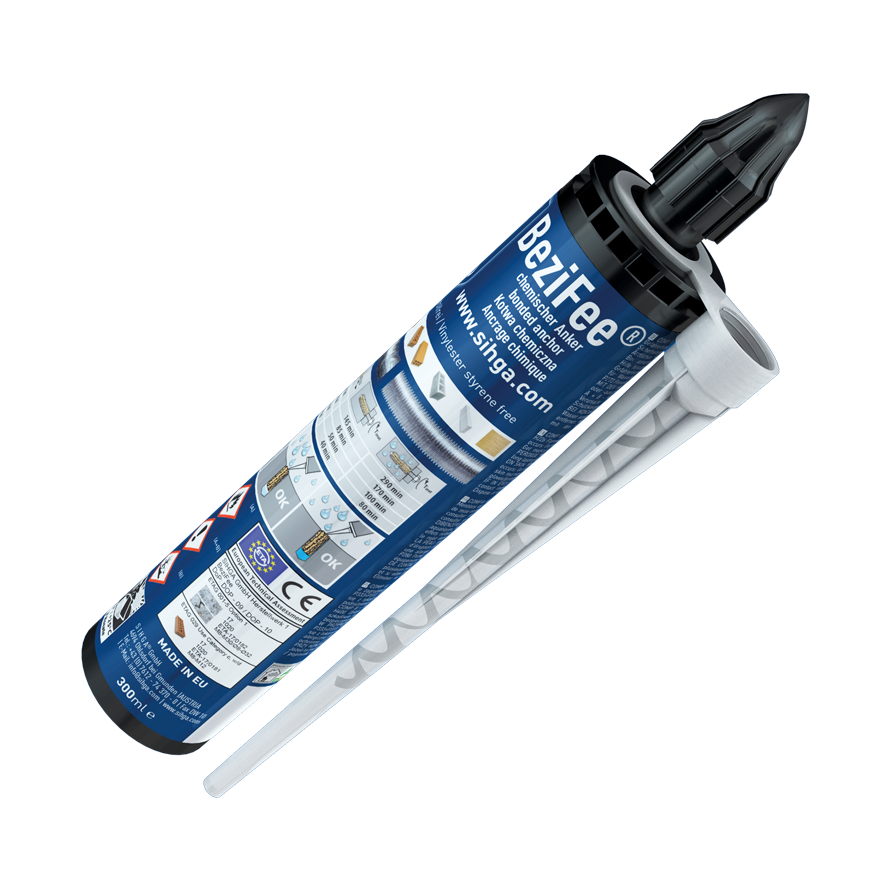 BeziFee®
Bonded Anchor. 2 component injection adhesive system for secure attachment of threaded and anchor rods.
Versatile two-component adhesive for timber construction: BeziFee®
To
reliably bond wood to concrete, brick or stone
, SIHGA® has developed the versatile two-component adhesive
BeziFee®
. The styrene-free adhesive ensures the
secure fixing
of threaded and anchor rods and guarantees a
permanent bond
between two building materials. The construction chemistry product can
even be used under water without any problems
.
Adhesives for demanding projects: the advantages of the construction chemistry product
The two-component injection adhesive is versatile and, thanks to its advantages, is suitable even for demanding projects:
is waterproof when installed
has very good design values - even near the edge
offers high processing convenience
is styrene-free - unpleasant and unhealthy odours are eliminated
contains no volatile organic compounds (VOCs)
can be used without hesitation even in the drinking water sector
has a fire resistance of F120 and is non-combustible (class A1)
Construction chemistry refers to all chemical products used in the construction industry. These include, for example, mortars, plasters, adhesives, sealants and coatings.
There is a wide range of construction chemistry products that can be differentiated according to their intended use. These include, for example, concrete admixtures, joint compounds, floor levelling compounds, adhesives, waterproofing agents and many more.
Construction chemistry products have to meet different requirements depending on the area of application. The most important ones include high processing safety, good adhesion, a long service life and high weather and UV resistance.
Construction chemistry products are
used in many ways in the construction industry
. They are used in areas such as
facade fixing
,
terrace fixing
, garden design, structural and civil engineering, restorations, renovations and many others.